As seen on Medium.
Hi guys! We are entering the weekend, which means a new piece from me. Previously, we have talked about knowledge and how safety is something you want to know a lot about. I also mentioned the importance of constant learning and researching. With that being said, I hope you have already learned something or maybe even started doing your own research.
Let's say you're new to all of this. You want to learn; you want to understand crypto. The first thing you're going to notice is that there is A LOT of information available.
Even if we exclude crypto for a second — it's a fact that the internet is overflowing with information nowadays; you can find information supporting one side, but at the same time you can find evidence that support the other. That can become a real issue for anyone that wants to learn about a specific topic. But having someone who has better knowledge of the researched topic can be VERY helpful. You can turn to them anytime you're not sure of something you read on the internet and they decipher all the information you're receiving.
So take a step back for a moment. I have emphasized the importance of knowledge and safety so much, but obviously this solely is not enough to easily start your crypto journey. You would be more comfortable if there would be someone or something to offer you support throughout.
Support in the beginning represents added safety in gaining knowledge. And this is where we, CryptoUnity, step in. We want to be that supporting friend to anyone who is stepping onto the crypto path.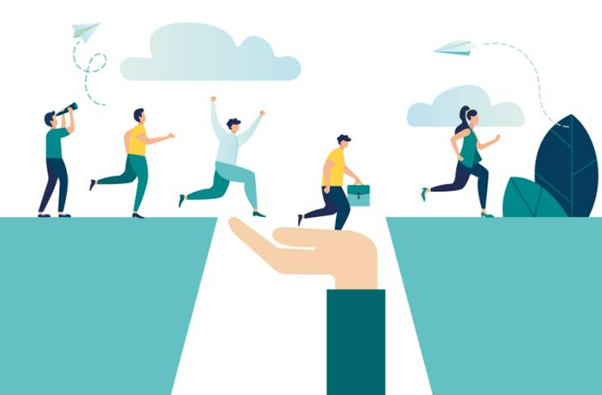 If you have ever tried to contact a support site on an exchange, big chances are you were left without a reply, it took too long or you didn't get the answer you needed. If you hoped for an instant answer, you were probably disappointed. And this is one of the main things that sepparates us from other projects.
Support is the foundation of our project. We founded CryptoUnity because we wish to customize crypto trading for people who are just starting with crypto. We want to provide a trading tool that is easy to use, is user friendly and offers help along the way.
Our vision is to create:
an application with a crypto exchange, which will serve as the only tool needed to trade
a community where people help each other
support that is available 24/7
We firmly believe that something like this is missing in the crypto world, but is also very much needed. A lot of people, from the 97 % of the world that is not in this kind of world, don't feel comfortable with it, since crypto can look very complicated for an outsider. But we all know complexity differs based on what your goal is. For an everyday person, who just wants to use crypto for savings and investment in the future, crypto shouldn't be too complicated. Of course active trading is way more complex, but this is not what we are talking about at the moment. Buying your first cryptocurrency is simple, especially if you have a guiding hand available. And this is exactly what we want to be to those, who think that they wouldn't be able to learn anything.
And even though we try to show this through our platform, we realize that there are still people, who simply don't trust crypto, because it is all virtual and physically inaccessible. And that is why we decided to change that. We have come up with something, that we haven't seen yet: traveling physical crypto exchange offices Your first thought was probably "What?". Allow me to explain the concept behind them.
A physical exchange is an office that implements all services from the mobile application and the website. Its main purpose is to enable a more personal form of crypto trading, and with that building trust in CryptoUnity, as users will have the opportunity to solve problems with our employees, even those that are more on the skeptical side. It is designed as a traveling exchange office, as it then has greater access and can cover larger areas, thus reaching a greater group of people than if the offices were static. The user will be able to invest money in cryptocurrencies, exchange between them, exchange crypto back into fiat and withdraw or transfer money to his bank account. Just like in the mobile application, a lower fee will be required when exchanging fiat for CUT tokens than exchanging directly to other cryptocurrencies. Besides that, users will also be able to sign up for educational seminars and courses or individual consulting on using the application or trading with cryptocurrencies. If the user does not have an account yet, he will be able to create it with the help of our staff members. He will also be able to order a cold wallet to further protect his assets. The employees will help him download the app to his phone and briefly explain how to use it.
As you can tell by now, we are really working hard on introducing cryptocurrencies and crypto in general to a broader audience than just to the 3 % of the world population that is already involved in it. We all strongly believe that crypto is still at the very beginning. It is on you to decide when you will jump on this crypto train with its only destination: the future.
Start simple and stay secure folks!
Tina