In the ever-evolving landscape of blockchain technology, security is paramount. That's why we've partnered with CertiK, a pioneering company specializing in smart contract audits and blockchain security checks. Their reputation speaks volumes, and we've previously earned their esteemed badges, like the KYC Gold, to showcase our commitment to secure, transparent operations.
But today, we get to "brag" a bit about the new badges that have been added to CryptoUnity's public CertiK profile. 🏆
Skynet – watchlist
CertiK Skynet provides on-chain analytics and insights on blockchain projects. Data insights on a project's community development and growth, price performance and health, and security profile are available for Skynet-enabled projects. (CertiK, 7.9.23)
The second new badge is Top 10% Sub-scores. This one represents 2 achievements combined:
Top 10% Security Score


This honor is given to projects that have a Security Score that is among the top 10% of all supported Web3 projects. Security Score examines the real-time security posture of projects by analyzing important on-chain and off-chain data. (CertiK, 7.9.23)
Top 10% Fundamental Health Score


Projects in the top 10% of Fundamental Health indicate transparency, well-structured organization, and comprehensive technical documentation. These characteristics provide an open view of the project's operations and structure. (CertiK, 7.9.23)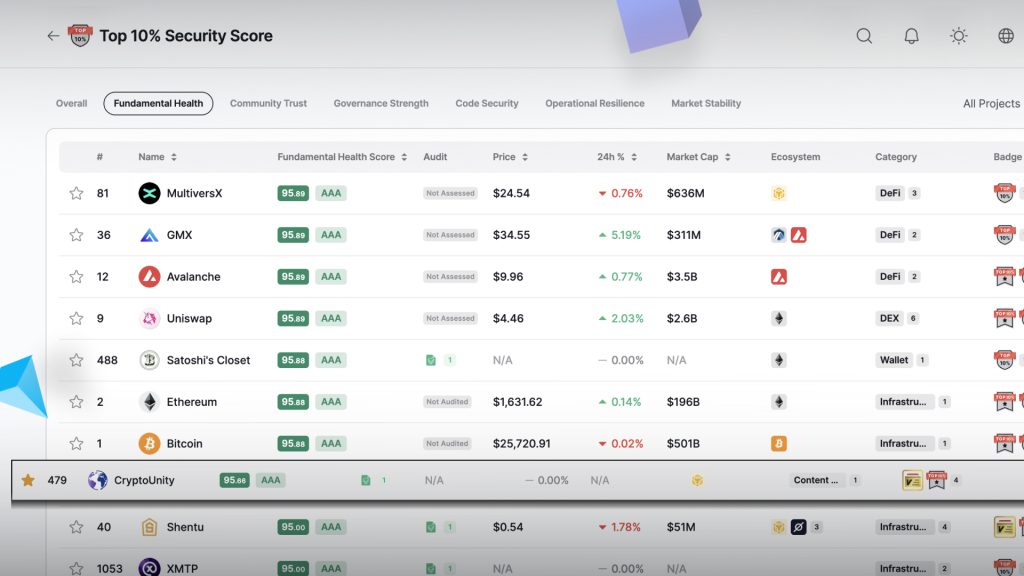 In fact, if you look closely at the Fundamental Health Score, you'll see CryptoUnity is standing right behind the big boys in the game—Ethereum and Bitcoin! 🔥
Here's to many more achievements ahead!
We invite you to be a part of this journey. Visit our profile on CertiK and add CryptoUnity to your watchlist (by clicking on the star) to stay updated on our achievements and security posture. Together, let's build a secure, transparent, and thriving community!